With the close of 2022, we at Kornfeld LLP look back on a year that saw many significant firsts and accomplishments.
Merger of Kornfeld LLP and Shapray Cramer Fitterman Lamer LLP
We were pleased to begin the year with the momentous merger of Kornfeld LLP and Shapray Cramer Fitterman Lamer LLP to become the new Kornfeld LLP (also operating as Kornfeld, Shapray & Partners). The merger brought together a skilled team of lawyers with deep expertise in business, commercial and real estate law, as well as complex litigation.
New Associates
Additionally, we are happy to have welcomed two new associates to the Kornfeld team earlier this year: Yan Gao and Matthew Sveinson. Yan maintains a general civil and commercial litigation practice, while Matthew focuses on construction disputes, corporate and commercial litigation, and real property disputes. They have both appeared before all levels of court in British Columbia and we look forward to their ongoing contribution to the firm.
Awards and legal rankings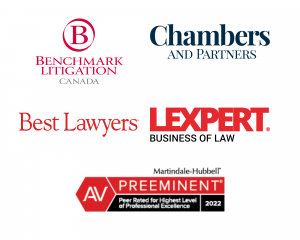 Kornfeld LLP received the following recognitions and rankings:
Additionally, a number of our lawyers received various recognitions:
Neil Kornfeld was a featured Leading Lawyer in Lexpert's Canadian Legal Lexpert Directory, consistently recommended in the area of Property Development.
Shane Coblin, Neil Kornfeld, Abbas Sabur, and Howard Shapray were recognized as AV Preeminent Peer Rated Attorneys by Martindale-Hubbell.
Abbas Sabur, Howard Shapray, and Stephen Fitterman were ranked as leading individuals in litigation in British Columbia in the Chambers Canada Legal Guide 2023.
Shane Coblin, Stephen Fitterman, Dan Parlow, Sandra Foweraker, Abbas Sabur, and Francis Lamer were recognized as Litigation Stars in the Benchmark rankings.
Finally, six of our lawyers were recognized by Best Lawyers Canada; Howard Shapray (Litigation), Brad Cramer (Corporate and Commercial Litigation), Francis Lamer (Corporate and Commercial Litigation), Stephen Fitterman (Corporate and Commercial Litigation, Environmental Law), Shane Coblin (Commercial Leasing Law, Corporate and Commercial Litigation), and Abbas Sabur (Administrative and Public Law, Corporate and Commercial Litigation, Director and Officer Liability Practice)
2022 Cases
Below are a few highlights of notable cases the firm took on in 2022:
KBK No. 11 Ventures Ltd. v. XL Insurance Company Ltd. The court ordered the insurer to reimburse our client for all costs incurred to date as defendant in a complex multi-party construction dispute and to prospectively cover all defense costs going forward as they are incurred.
Callahan v. Callahan. This case is the court of appeal's most recent pronouncement on the "oppression remedy", the meaning of "reasonable expectations" of shareholders, and elaborates on the law concerning "unfair prejudice" justifying a finding of shareholder oppression.
Gentai Development Corp. and PKT Holdings Inc. v. Buffalo Holdings Ltd. et. al. The successful outcome in having a receiver appointed broke the partnership stalemate, allowed for the sale of the partnership property, and earned our clients a large profit on the sale.
Beedie (Keefer Street) Holdings Ltd. v. City of Vancouver. The development is of significant interest to advocates of urban renewal and density planning and to developers. The Intervenors – supporting Beedie's position – have expressed concern that the City's flawed procedures fail to ensure fairness and reasonable transparency in the development permit process and have an adverse precedential impact on industry.
Telus Health Care Centres Inc. v. Harrison Healthcare Inc. The action raises multiple, complex issues of law, and raises important questions of patients' rights to be informed of and to have their records transferred with their selected physician.
Community events
Beyond the work we do for our clients, our firm was pleased to support and be a part of several community events in Vancouver in 2022. We were a gold sponsor for the Boundary Bay Air Show, an MVP sponsor for the RBC JCC Sports Dinner, and a gold sponsor for the 2022 Arthritis Research Canada Soirée.
We are proud of the work our firm members do to support our community—in particular, we would like to once again congratulate Jordan Langlois on his appointment as the new Board Chair for Arthritis Research Canada.
Closing thoughts on 2022 at Kornfeld LLP
As we reflect on 2022, we are appreciative of the role we have had in helping our clients and contributing to the broader legal community. We wish our clients and colleagues a happy New Year, and we look forward to an energizing and productive year in 2023.