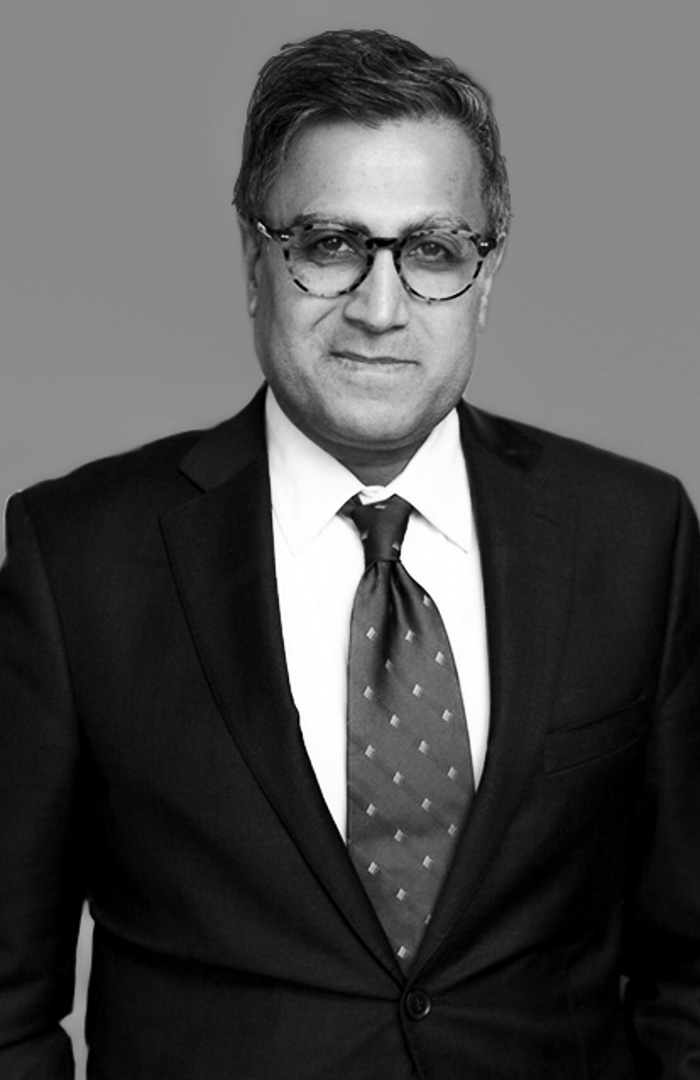 Senior Counsel
Shafik Bhalloo K.C.
Shafik Bhalloo was born in Tanzania. He served as a partner of Kornfeld LLP from 2000 to May, 2016 and continues today as legal counsel with Kornfeld LLP. As of May 2016, Shafik also has an appointment as a Professor of Practice and an Academic Director with Simon Fraser University's Faculty of Business where he teaches, commercial law, business ethics and employment law.
In his legal practice, Shafik focuses on corporate commercial litigation (multiparty commercial/corporate and securities cases), general civil litigation (prosecution and defense of personal injury, fire and casualty claims, breaches of sale of goods, and real estate contracts and negligence claims against insurance and real estate companies, agents and brokers) and labour and employment law (grievances, collective bargaining, certification applications and employment terminations). Certified in mediation, he counsels in commercial, insurance, labour and employment disputes.
Shafik appears before the Labour Relations Board in certification applications and unfair labour practice complaints and before the Supreme Court of British Columbia on wrongful dismissal matters. Shafik Bhalloo has lectured on non-competition contract covenants, presented for the Continuing Legal Education Society of BC and the Vancouver Board of Trade, among others, and authored several academic articles.
Practice Areas
Education
Osgoode Hall Law School, York University, LLM, with a focus on e-Business
Faculty of Law, University of British Columbia, LLB
Simon Fraser University, BA with Honours
Bar Admissions
Honours
Professor of Practice and Academic Director with the Beedie School of Business, Simon Fraser University
Member of the West Vancouver Police Board
Lecturer and presenter, Continuing Legal Education Society
Lecturer and presenter, Vancouver Board of Trade
Past Member, Judicial Advisory Committee
Past Member, Vancouver Police Department's Diversity Advisory Committee
Past Member, Conciliation and Arbitration Board of the Ismailia Community
Past Legal officer, pro bono legal advice program of the Salvation Army
Published Works
Bhalloo, S., & Burke, K. M. (2021). Considering the Cost of Signing an NDA: A Case of Workplace Sexual Harassment and Assault. Journal of Business Ethics Education, 18
Bhalloo, S., COVID-19: Loss of the Market for the Kind of Work the Employee was Hired to do Does Not Frustration Make.*, November 8, 2021
Bhalloo, S., Changes to the Employment Standards Act related to COVID-19, March 24, 2020
Bhalloo, S., Baharian, N., LAYOFF: The landscape in British Columbia, March 18, 2020
Bhalloo, S., Temporary Layoff: A Comparative Review of the Law across British Columbia, Alberta, and Ontario, March 17,2020
Bhalloo, S. & Burke, K.,M & (2020) "'I Am in Room 523': Sexual Harassment in the Context of #MeToo and #timesup", Journal of Business Ethics Education, Vol 17 (pages not assigned yet)
Bhalloo, S., & Burke, K. M. (2019). Falsifying expense receipts: Everybody does it! Journal of Business Ethics Education,Vol. 16: pp. 213-216.
Shafik Bhalloo and Hanna Holbrook (2018), "Temporary layoff: A comparative study of the law in British Columbia and Alberta", The Advocate (Vancouver). 76(3): 361-377
Shafik Bhalloo & Kathleen Burke (2018), "A Joint for the joints: The case of (medical) marijuana in the workplace", Journal of Business Ethics Education. Vol. 14: 327-330
Shafik Bhalloo, & Kathleen M. Burke (2016), "Overworked and underpaid: The plight of one hapless paralegal" Journal of Business Ethics Education. Vol. 13: 403-406.
Shafik Bhalloo and Alisha Parmar (2016), "Medical marijuana in the workplace – Don't weed out your employees just yet!", Advocate (Vancouver). 74(5): 687-696
Bhalloo, Shafik and Kathleen Burke (2016), "Risky Returns at Zoie B's Apparel", Journal of Business Ethics Education. Vol. 12
Bhalloo, Shafik and Alisha Parmar (2016), "Restrictive Covenants: When the Honeymoon Ends", Alberta Law Review. 53(3): 643
Bhalloo, Shafik and Kathleen Burke (2016), "The Great Canadian Mortgage Company", Journal of Business Ethics Education. Vol. 12: 185-188
Bhalloo, Shafik and Alisha Parmar (2016), "Bhasin v. Hrynew: Ramifications in Employment law", The Advocate (Vancouver) 74(2): 185-196
Bhalloo, Shafik and Alisha Parmar (2015) "Creative Non-Competition Clauses as Restraints of Trade: Rhebergen v. Veterinary Clinic Ltd.", The Advocate (Vancouver) Vol. 73: 183
"Section 96 of the Employment Standards Act: Balancing Competing Interests" 72 The Advocate 855 (November 2014)
"Everything you always wanted to know about suspending an employment standards determination (but were too afraid to ask)" 72 The Advocate 205 (March 2014)
"Reinstatement: The quintessential "make whole" remedy or a fiction?" 70 The Advocate 845 (November 2012)
"Employers beware: The myth of temporary layoff may result in a wrongful dismissal liability," The Advocate, January 2011 (with Gareth Carline).
"Enforcement of Benefits Under The Employment Standards Act: A Single Jurisdiction for Enforcement Affirmed," U.B.C. Law Review, September 2010.
"Removing, adding or substituting a party after judgment or a final order: Can it be done, and when?" The Advocate, March 2007.
"Notice extension for bad faith dismissal: 'a remedy divorced from the wrong,'" The Verdict, October 2006.
"Bad faith damages in wrongful dismissal cases: Post Wallace jurisprudence," The Advocate, May 2006.
"Jurisdictional Issues in Electronic Commerce: A Canadian Perspective," The Computer Law Review and Technology Journal, Winter 2004.
"The curative provision in Section 43(6) of the Personal Property Security Act: How misleading is a 'seriously misleading' error?" The Advocate, May 2004
"Employment Contracts: Enforcing Non-Competition," The Advocate, November 1995
Contact Shafik: