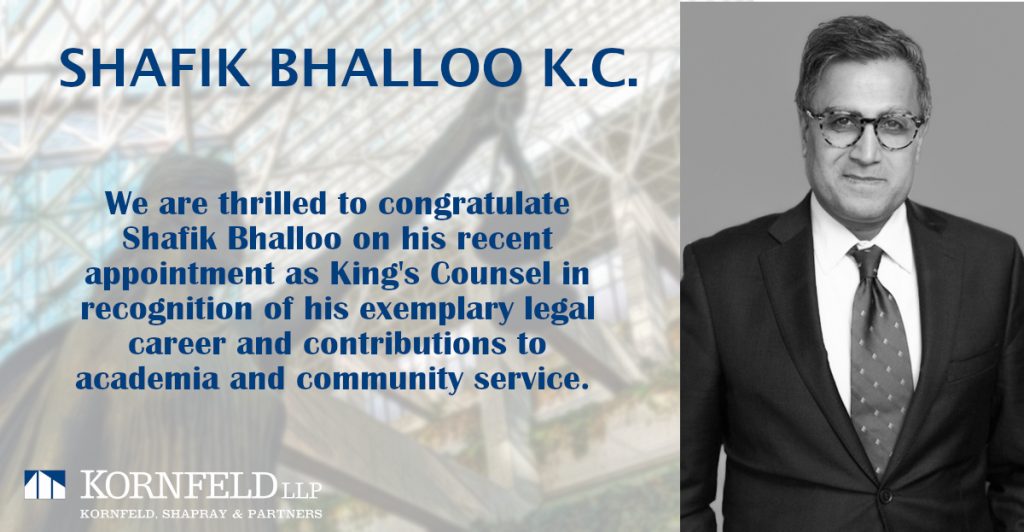 We are thrilled to congratulate Shafik Bhalloo, Senior Associate Counsel, on his recent appointment as King's Counsel on the recommendation of the Attorney General for British Columbia in recognition of his exemplary legal career and contributions to academia and community service.
The appointment of King's Counsel is an honour conferred by the Government of British Columbia on lawyers who have distinguished themselves by their counsel, teaching contributions, publications, advocacy and volunteerism.
Shafik has served on the Employment Standards Tribunal, the West Vancouver Police Board, including chairing its policy-governance and human resources committees, and the Vancouver Police Department's Chief Constable's Diversity Advisory Committee.
In addition, Shafik has been active in non-profit causes.  He has provided pro bono legal counsel to the Pacific Autism Family Network, the Salvation Army and the provincial Conciliation and Arbitration Board of the Ismaili Muslim community.
Shafik is currently an Associate Professor of Practice with Simon Fraser University's Faculty of Business where he teaches commercial law, business ethics and employment law courses.  He is a two-time recipient of the TD Canada Trust Distinguished Teaching Award, the highest teaching honour at SFU's Beedie School of Business.
Congratulations, Shafik.