On August 23, 2021, the Government of British Columbia announced that, commencing September 13, 2021, it would require proof of COVID-19 vaccination for individuals, in British Columbia, to access various discretionary services. The Government news release said:
A new order from the provincial health officer will require individuals to provide proof of vaccination to access a broad range of social, recreational, and discretionary events and businesses throughout the province. As of Sept. 13, one dose of vaccine will be required for entry to these settings. By Oct. 24, entry to these settings will require people to be fully vaccinated at least seven days after receiving both doses. To enter certain spaces, including indoor ticketed sporting events, indoor and patio dining in restaurants, fitness centres, casinos and indoor organized events, like conferences and weddings, people aged 12 and older will be required to show their proof of vaccination.[1]
A Complainant filed a complaint with the Human Rights Tribunal (the "Tribunal") against Dr. Bonnie Henry, the Provincial Health Officer  for British Columbia ("PHO"), alleging that the announced new order requiring proof of vaccination to access certain discretionary services in British Columbia constitutes discrimination in services on the basis of disability under section 8 of the Human Rights Code (the "Code") because he has asthma and had pneumonia as a child and did not want the "experimental COVID vaccine" (the "Complaint"). [2] Section 8 states:
Discrimination in accommodation, service and facility
8   (1)A person must not, without a bona fide and reasonable justification,
(a)deny to a person or class of persons any accommodation, service or facility customarily available to the public, or
(b)discriminate against a person or class of persons regarding any accommodation, service or facility customarily available to the public
because of the race, colour, ancestry, place of origin, religion, marital status, family status, physical or mental disability, sex, sexual orientation, gender identity or expression, or age of that person or class of persons.
In the normal course, the Tribunal screens complaints upon filing and accepts only those that allege facts which, if proved, could violate the Code. The screening decision is usually sent by letter to the complainant and not published, but in this case, because the Tribunal had received a large number of inquiries and complaints from public relating to the then pending vaccination requirements, the Tribunal sought to publish its screening decision with a view to promoting better awareness of the Code and education about its application. In doing so, the Tribunal decided to order a limitation on the publication of the name of the Complainant to protect their privacy.
In screening the Complaint, the Tribunal noted that to establish discrimination, the Complainant must prove the following conjunctive requirements:
(i) they have a characteristic protected from discrimination;
(ii) they have experienced an adverse impact in a protected area; and
(iii) the protected characteristic was a factor in the adverse impact.
In the case at hand, the Tribunal said while asthma could constitute a physical disability, which is a protected characteristic under the Code, the Complainant did not allege facts that would show that they actually experienced adverse impact. The Complainant, at best, "references a prospective adverse impact". In dismissing the Complaint, the Tribunal said:
it is not enough to prove discrimination to have a protected characteristic and have experienced an adverse impact: there must be a connection between the two. The person making the complaint must establish that connection. Here, even if the Complainant had outlined an adverse impact, such as being denied a service because he was not fully vaccinated  against COVID-19, he would then have to allege facts that could establish a connection between having asthma and not being fully vaccinated, such as his disability preventing him from being able to get vaccinated.  An ideological opposition to or distrust of the vaccine would not be enough.
At the time of writing this article, the Tribunal has yet to adjudicate a case where a complainant has experienced adverse impact because they are not fully vaccinated because of their disability or other protected ground in the Code preventing them from being able to vaccinate. However, such a case is sure to arise and it is anticipated that a "duty to accommodate up to the point of undue hardship" may be engaged in such a case. Stay tuned.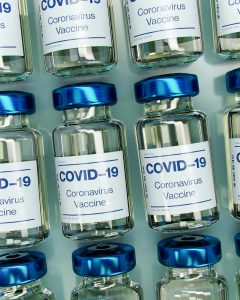 [1]https://news.gov.bc.ca/releases/2021HLTH0053-001659
[2] Complainant v. Dr. Bonnie Henry, 2021 BCHRT 119 (CanLII), https://canlii.ca/t/jj280