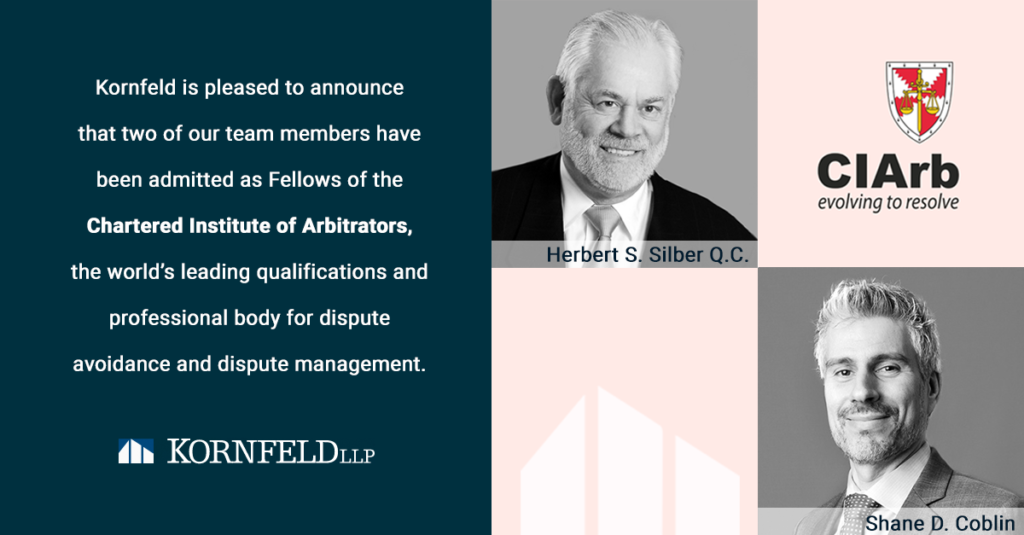 Kornfeld LLP lawyers Shane D. Coblin and Herb Silber, Q.C. have recently been admitted as Fellows by the Chartered Institute of Arbitrators.
The Chartered Institute of Arbitrators (CIArb) is the leading international organization in alternative dispute resolution with representation in 149 countries and an international network of 41 branches.
The Canadian branch of the CIArb was formed in 2017 and has approximately 200 members in four Chapters across the country.
To become a Fellow of the CIArb, lawyers must have at least 10 years of leadership experience in arbitration, construction adjudication or mediation. A thorough knowledge of law relevant to the candidate's practice as well as experience in writing directions and final awards or mediation agreements and other professional documents is also required.
Shane D. Coblin is a partner in Kornfeld's litigation group who has 18 years of practice focused on construction, real estate and commercial disputes.
He was recognized as a top Litigator in Canada by Best Lawyers in the 2021 edition of its prestigious ranking. Shane has also been recognized by Benchmark Litigation as a "Litigation Star" and has an AV Preeminent rating by Martindale-Hubbell for a high level of professional excellence and ethical standing, as rated by his peers.
Herb Silber is a Senior Litigation Counsel in Kornfeld LLP with more than 45 years of practice as a member of the Bar of British Columbia. He is a former partner at Kornfeld LLP and is now Associate Counsel. His career has mostly focused on litigation in the areas of real estate, commercial contacts, corporate disputes and employment law.
In recent years, Herb has been increasingly active as an Arbitrator and Mediator. Following his training at the Harvard University School of Negotiation on mediations, he was appointed a panelist role in connection with domestic commercial arbitrations and mediations with the Vancouver Arbitration Centre (formerly known as the British Columbia International Commercial Arbitration Centre). He has written several articles on arbitration and mediation, which were published in the B.C. Bar's leading publication, The Advocate.
As fellows of the CIARB, Herb and Shane have joined the ranks of some of the very best arbitrators in the world.