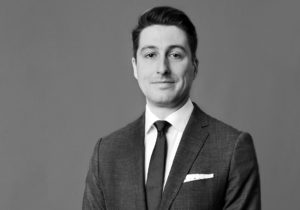 For law firm associates, making partner can seem like a long road. At Kornfeld LLP, that path may be more straightforward than one would expect.
Jordan Langlois was invited in as a full partner within five years of joining Kornfeld LLP as an associate lawyer. He earned the invitation by demonstrating a strong commitment to the firm's clients, building strong relationships with them, and indicating a clear competency of handling files from start to finish. 
Becoming the first point of contact for our clients and being able to manage those relationships independent of other partners made him a valuable associate that they could rely on. 
Jordan explains, "I believe the firm's partners were able to rely on me to complete work without having to bug them too much. That sort of self-sufficiency, along with the fact that I've always been seen as a team-kind-of-guy who generally gets along with everyone and who feels passionately about the overall success of the firm, drove me forward. Those elements, along with strong client development skills, go pretty far in terms of how partnership candidates are evaluated." 
Born in Eastern Ontario, Jordan obtained a Bachelor of Commerce at McGill University before attending City University Law School in London, UK and graduating with First-Class Honours. Besides the UK, he's lived in Switzerland and Australia, and speaks French and Spanish. (Read Jordan Langlois' bio…)
Back in Canada, cosmopolitan Vancouver seemed like a natural choice to practice as a solicitor and take advantage of outdoor opportunities like skiing and hiking.
While working on his Canadian accreditation, Jordan took a job at Kornfeld LLP, getting a foot in the door and performing odd jobs like the work of a summer student or a paralegal.  
About a year later, after being fully accredited to practice in Canada, he took on a position as an articling student. When that time was up, he was invited to join the firm as an associate. 
"I just wanted to focus on my career and absorb as much knowledge as I could during those initial formative years," Jordan said. "The firm made it clear to me that I was on the partnership track and I just had to keep doing what I was doing–potentially better if I could–and I knew I would eventually be considered." 
The willingness to learn and be accountable was only part of the equation. Kornfeld LLP outlines several factors to guide its decision-making when considering new partners. For example: are you a team player?; reliable?; do clients like working with you and approach you directly for substantial new projects?; are you business-minded and able to take ownership over projects? In addition, ethics and professionalism, community involvement, and a cooperative spirit all play a role in a cohesive framework that guides decision making. 
Compared to other firms, there's no fixed timeline for partnership at Kornfeld LLP.  There is also only one class of partner, being a fully-participating equity status of partnership.
The firm takes a holistic approach when evaluating a good fit–and prefers quality, engagement, and proactive communication over a quantitative approach that focuses exclusively on the numbers. Associates aren't expected to sleep at the office or forgo a social life to prove their dedication.
Rather, when Jordan started at the firm, it was up to him to speak up and let the partnership know he had the capacity and interest in building relationships. 
He knew that he wanted to do transactional work and after getting his feet wet in commercial real estate, found that it was a good fit and that clients appreciated his effort to communicate well and to be available when needed. 
Putting in the time, so to speak, by associates, is among many factors when making strategic decisions at the firm. By recognizing a dedication to uphold the firm's values and in cultivating long-term relationships by providing value and reliable service to clients, the path to partnership can be fairly clear.   
Read more about Jordan here, "Kornfeld LLP Adds a Partner"