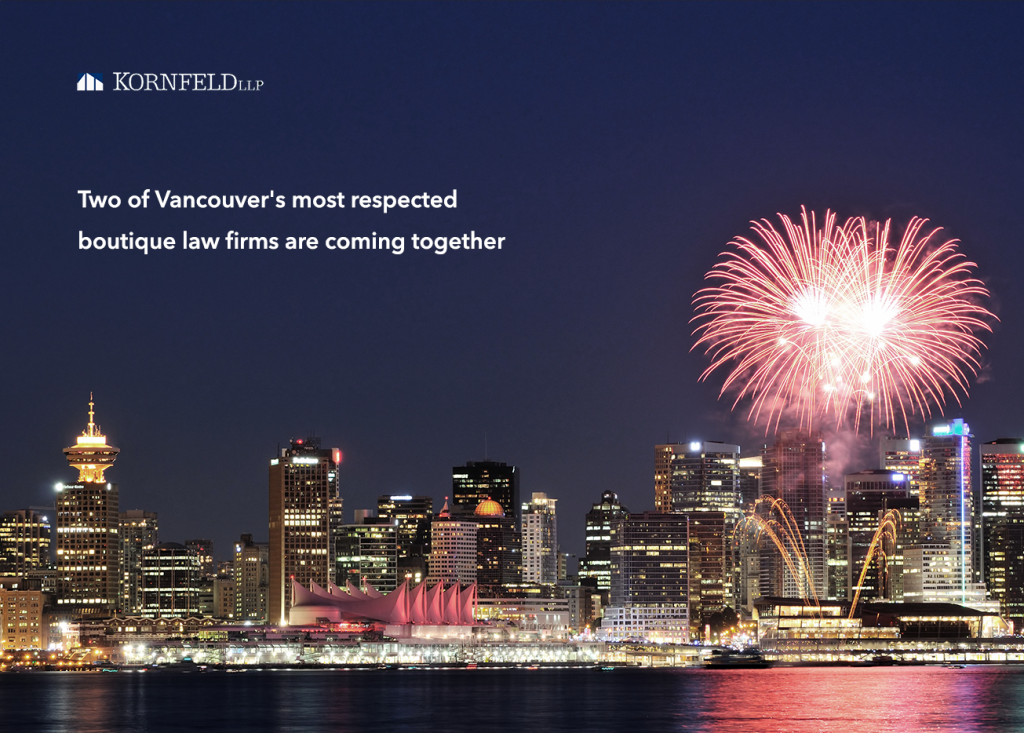 VANCOUVER – Two respected specialty law firms are joining forces to create one of Vancouver's leading local business law firms. On January 1, 2022, Kornfeld LLP and Shapray Cramer Fitterman Lamer LLP will merge to become the new Kornfeld LLP (also operating as Kornfeld Shapray & Partners).
"It's a powerful combination. We're bringing together a skilled team of lawyers with deep expertise in business, commercial and real estate law, as well as complex litigation," said Stephen Fitterman, partner at Shapray Cramer Fitterman Lamer LLP. "It's the experience that you would find at a larger firm with the client focus and personal attention to detail of a boutique."
For nearly three decades, lawyers at the two firms have provided expert advice and effective advocacy to B.C. entrepreneurs, developers, governments, financial institutions, and professional associations, as well as national and international entities.
"These two firms have helped build some of B.C.'s iconic landmarks and secured landmark court decisions and negotiated solutions. That's why time and again our lawyers have been recognized among Canada's top business and litigation counsel," said Dan Parlow, partner at Kornfeld LLP. "We're all excited because together we'll be better positioned than ever to help our clients achieve their goals."
Founding partners from both firms were once partners at the old Freeman and Company, one of Vancouver's most storied regional law firms. Together with these common roots, and accomplished colleagues, the two firms have brought the same values, high standards and client focus to their work.
The new firm will include 28 lawyers with plans to further expand to add depth in its commercial real estate and corporate and commercial services.
Contact:
Jenn Funk
Firm Administrator
604.331.8304 / jfunk@kornfeldllp.com