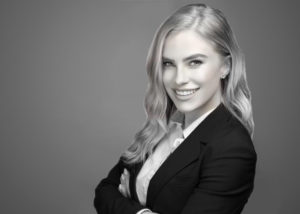 Kornfeld LLP welcomes Hailey Laycraft as an associate after she completed her articles at the firm in May 2020.
Hailey, who had experience in both solicitor and litigation work as an articling student, will assist clients in corporate and commercial matters. This diversity of tasks is what attracted her to apply to Kornfeld, she said.
"My initial draw to Kornfeld LLP was the breadth of experience of their team and the firm's diverse areas of practice," Hailey said. "Coming out of law school it was important to me to secure an articling position that would give me exposure to as many areas of law as possible – and that is exactly the experience that Kornfeld LLP offers."
Articling in a boutique firm gave Hailey the experience she wanted of overseeing the full cycle on multiple files. She credits this hands-on work, as well as mentorship by senior Kornfeld lawyers, with helping her to decide which areas she wanted to focus on after articling.
"As an articling student, I was able to be part of many files from start to finish, which allowed me to really understand the process and gain a large understanding of how all the pieces, whether in a transaction, or a court proceeding, fit together," she said.
In her articling position, Hailey was not only able to work with clients, but also negotiated with opposing counsel – in one such case, reaching a settlement before an upcoming trial – all while having the guidance of a senior lawyer.
Hailey received her JD from the Faculty of Law at Thompson Rivers University, along with the Dean's Course Prize in Corporate Governance in 2018 as the student with the highest grade in a semester. She also participated in a Directed Research Assignment where she authored a paper titled, "Trends in Environmental Class Actions in Canada," which was published in the Canadian Class Action Review in August 2019 and received several scholarships during her earlier studies in communications and public relations.
In addition to the camaraderie in the Kornfeld LLP team, Hailey said it was especially rewarding to see the firm foster a number of long-term relationships with clients and contribute to their success.
"Something that motivates me is our clients," she said. "Kornfeld LLP has a diverse client-base which spans large, sophisticated corporate entities, to individuals wanting to start a small business. No file is ever the same, and it keeps everyday interesting."
Born and raised in Calgary, Hailey's goal from a young age was to live and work in Vancouver, which "didn't get -30 degree winters". When not at the office, Hailey enjoys paddle boarding, biking and time at the beach.