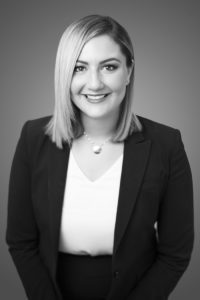 Kornfeld LLP welcomes Jada Tellier to the firm as an associate lawyer with experience in commercial real estate and Indigenous law.
Jada assists clients with all aspects of real property development and commercial real estate transactions, including development and transactions involving First Nations lands. Prior to joining the firm, Jada was an associate at a regional and a national law firm in Vancouver. She was attracted to Kornfeld LLP because of its focus on commercial real estate development and opportunities at the firm to work on complex and significant projects within British Columbia.
Being able to witness tangible results in communities motivates her practice.  "During the life of a project–from design through to construction, development and marketing–there are many opportunities for the real estate industry to develop strong, positive relationships with investors, community members, municipalities, First Nations, and affordable housing organizations. It's exciting to see projects on the ground that are meeting the needs of communities and know that I've helped bring those projects to fruition."
Jada's Indigenous heritage and past experiences have helped her to understand many different perspectives and have contributed to her commitment to helping communities develop and grow stronger. Born and raised in Edmonton, Jada didn't find out about her Métis heritage until she was in junior high, in part because her family was displaced from its Métis community. "During my grandfather's time, it seems that it wasn't uncommon for people with Indigenous heritage to hide that part of themselves," she said.
While completing her B.A. in Interdisciplinary Studies at the University of British Columbia, Jada said the more she learned about her Indigenous heritage, the more she became personally invested in working with Indigenous peoples. At UBC, she studied subject matter focused on Indigenous peoples while working full-time at Lattimer Gallery in Vancouver, a family-owned Northwest Coast First Nations art gallery.
In law school at the University of Toronto, she held a variety of roles in the law school community, including: a legal-aid clinic worker at Downtown Legal Services, an editor of the Indigenous Law Journal, a practicum student at the David Asper Centre for Constitutional Rights, and a legal research assistant at Environment Probe. Jada also mentored students applying to law school and assisted students with applications for funding from Indspire, a national Indigenous charity. "It is important to me that all students have access to the tools needed to succeed in an institutional academic environment," she said.
Jada Tellier continues to be involved in the legal community. She has been appointed as Co-Chair of the Canadian Bar Association Aboriginal Law Subsection (Vancouver) for 2019-2020 and will be working alongside the Section Executive to organize programming to lawyers on topics of Indigenous and Aboriginal law, and create opportunities for both new and established lawyers practicing in the field to connect with one another.
"The Canadian Bar Association is a great resource for lawyers to tap into for networking opportunities and to enhance their legal knowledge. Aboriginal and Indigenous law are broad areas of practice and we'd like to be able to organize programming in these areas that will be useful to both solicitors and litigators".